Call Our Dedicated Cruise Desk at 877-287-2835
Venetian Passageways
Enjoy all the wonders of Venice, the Queen of the Adriatic, as we overnight in this magical city on a voyage that takes you along the ancient trade routes through the narrow Corinth Canal, to the ancient oracle of Delphi, and into the stunning fjords of Montenegro. Each new experience is intoxicating, provocative, makes you yearn for more. And more is exactly what you get.
The Star Pride is an all suite Yacht offering 106 suites, all outside with ocean views. With only 212 guests, a Star Pride cruise will make you feel like you're on board your own private yacht almost as soon as you step aboard. The Star Pride is large enough to pamper and entertain you, yet small enough to tuck into delightful tiny harbors and hidden coves that others can't reach.
The Star Pride offers two primary dining venues. AmphorA Restaurant offers gourmet, course-by-course cuisine in the evenings and the Veranda restaurant offers casual buffet and full-service dining for breakfast and lunch. All dining is open seating. And, for dining under the stars, make a reservation for Candles which features steaks and skewers.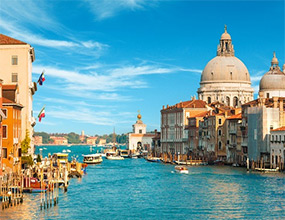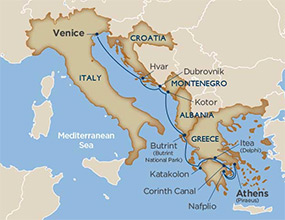 Day

Destination
1

Venice, Italy
2

Venice, Italy
3

Havar, Croatia
4

Dubrovnik, Croatia
5

Kotor, Montenegro
6

Katakolon, Greece
7

Itea (Delphi), Greece
8

Nafplio, Greece
9

Athens, Greece