Call Our Dedicated Cruise Desk at 877-287-2835
Gems of the Aegean
Find wonders across the breadth of the Aegean Sea, from the azure tip of Crete to the soaring spires of Istanbul, in one comprehensive 9-day voyage. The monuments of Ephesus and Rhodes are calling, and Santorini's blue-and-white charms are on your list of "must sees." Yet it may be the personal moments on board that are the most memorable.
The Star Pride is an all suite Yacht offering 106 suites, all outside with ocean views. With only 212 guests, a Star Pride cruise will make you feel like you're on board your own private yacht almost as soon as you step aboard. The Star Pride is large enough to pamper and entertain you, yet small enough to tuck into delightful tiny harbors and hidden coves that others can't reach.
The Star Pride offers two primary dining venues. AmphorA Restaurant offers gourmet, course-by-course cuisine in the evenings and the Veranda restaurant offers casual buffet and full-service dining for breakfast and lunch. All dining is open seating. And, for dining under the stars, make a reservation for Candles which features steaks and skewers.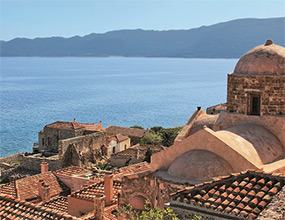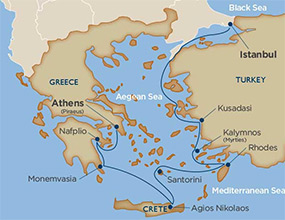 Day

Destination
1

Athens, Greece
2

Nafplio, Greece
3

Monemvasia, Greece
4

Agios Nikolaos, Crete, Greece
5

Santoriini, Greece
6

Rhodes, Greece
7

Kalymnos, Greece
8

Kusadasi, Turkey
8

At Sea
9

Istanbul, Turkey