Call Our Dedicated Cruise Desk at 877-287-2835
Aranui Cruises
Have you ever longed to hop a freighter to the romantic South Seas? Well, now you can, with Aranui Cruises - a delightful alternative to the more sumptuous cruises in and around Tahiti.
The Aranui 5 is a brand new, Deluxe state-of-the-art freighter that delivers supplies to the Marquesas Islands and also carries passengers. Inspired by the tales of Herman Melville, Jack London and Robert Louis Stevenson, travelers go along to get in touch with the spirit of adventure that lies dormant in us all. No other cruise offers such an authentic slice of Polynesian life.
The Aranui 5 offers deluxe accomodations for 254 passengers. Delightful cuisine, a lounge, pool, gym, 3 bars and attractive public areas and a crew of friendly Polynesian seamen make your cruise an unforgettable, fun adventure!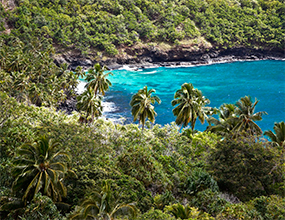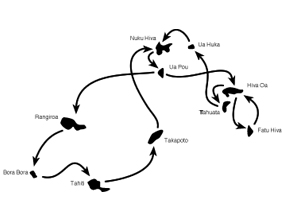 Day

Destination
1

Papeete, Tahiti
2

Takapoto, Tuamotu Islands
3

At Sea
4

Nuku Hiva (Taiohae-Hatiheu-Taipival)
5

Ua Pou (Hakahau-Hakahetau) Marquesas
6

Ua Huka
7

Tahuata & Hiva Oa
8

Fatu Hiva
9

Hiva Oa
10

Nuka Hiva/ Ua Pou
11

At Sea
12

Rangiroa, Tuamotu Atoll
13

Bora Bora, Society Islands
14

Papeete, Tahiti