Call Our Dedicated Cruise Desk at 877-287-2835
St. Paul to St. Louis
The American Spirit Thrives – A timeless voyage from the scenic bluffs of Red Wing to St. Louis' bustling Union Station district. Set out on a vacation steeped in the history, culture and traditions that made America great.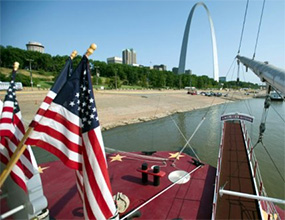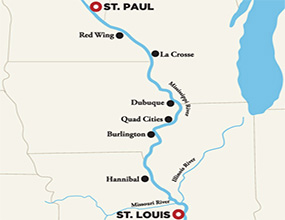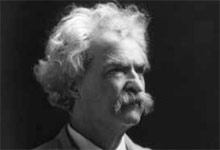 Mark Twain
Visit Mark Twain's hometown of Hannibal, Missouri from where much of his inspiration for his stories of Tom Sawyer and Huckleberry Finn is derived. Witness his words and wit brought to life by expert tribute artist Lewis Hankins. Delve deep into the life and work of Samuel Clemens through special daily presentations from special guest speakers Cindy Lovell and Henry Sweets, executive directors of Mark Twain Boyhood Home & Museum in Hannibal, Missouri and Mark Twain House & Museum in Hartford, Connecticut respectively. You won't want to miss this opportunity to share the Mississippi River with Mark Twain.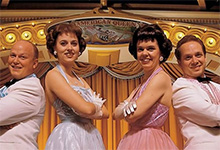 Music of the 50s and 60s
Head to the malt shop in your poodle skirt as the 1950s come alive. Frank Sinatra's dulcet tones soar in "Come Fly with Me," Nat King Cole is "Unforgettable" and The Platters think of "Only You." Relive the groovy 60s, heyday of peace, love and rock and roll. Celebrate hits from the Beatles, Aretha Franklin, Jimi Hendrix, The Rolling Stones, Bob Dylan and more.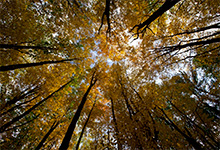 Autumn Colors
Each autumn, nature takes out her paintbrush and splashes vibrant colors across the land, white church steeples poking up amidst the splendor. Look deeper and you will find more than just fall foliage in all its glory; towns come alive with the bounty of the harvest and a generosity of spirit reflected in the unabashed smiles of the locals who greet you in every port.