American Duchess River Cruise | Roundtrip New Orleans - 6 Days
Showcasing the diversity and drama of the Lower Mississippi, this splendid voyage takes you from the legendary jazz of New Orleans' Bourbon Street to the charms of Nottoway Plantation, while your worries drift away with the relaxing pace of life both onboard and off. Enjoy the holiday season wtih an American Music Holiday cruise or a New Year's Celebration.
Cruise Information: Roundtrip New Orleans
Cruise Itinerary: Roundtrip New Orleans

| Cruise Schedule | Destination |
| --- | --- |
| Day 1: | New Orleans, LA - Hotel Stay |
| Day 2: | New Orleans, LA - Depart 5:00 PM |
| Day 3: | River Cruising |
| Day 4: | St. Francisville, LA |
| Day 5: | Nottoway, LA |
| Day 6: | New Orleans, LA - Disembark 8:00 AM |
New Orleans River Cruise Highlights
Authentic Southern Culture
Sprawling Sugarcane Plantations
Majestic Mansions
Antebellum Architecture
New Orleans Jazz and Historic French Quarter
Classic Cajun and Creole Cuisine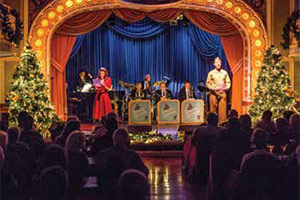 Amid the glittering elegance of an American Queen holiday cruise is a seasonal spirit larger than life. Experience the best of the Antebellum South during a magical time of the year and delight in all of your favorite holiday treats while getting acquainted with the classic traditions of the Cajun and Creole cultures. Sip a glass of eggnog as you listen to the sweet sound of local choirs and bands serenade the American Queen upon departure from the enchanting ports of Vicksburg and Natchez. Receive a warm welcome from strolling carolers upon arrival to charming St. Francisville. Our exclusive lineup of Christmas markets offers a little something for everyone including music, seasonal goods and locally produced crafts for you to enjoy. You will also delight in a private dinner celebration at Nottoway Plantation followed by a grand Holiday Ball aboard the American Queen.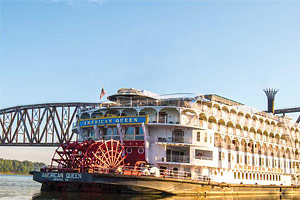 Resolve to have more fun and greet the New Year on the American Queen. The celebration carries throughout the week, but a special New Year's Eve gala in the marvelous Grand Saloon will surround you in elegant decor, confetti, champagne, newfound friends and the uplifting refrains of "Auld Lang Syne." Be one of the select few who can claim to have celebrated New Year's Eve aboard the world's grandest and most majestic riverboat.
One-stop shopping - Book complete cruise vacations with flights, transfers,
pre- and post-cruise stays, onboard accommodations, activities and more
For Cruise Dates, More Itineraries and Bookings
Call Our Dedicated Cruise Desk at
877-287-2835
Not responsible for errors or omissions. [Pleasant Holidays acts only as an agent for the various travel providers shown above.]