American Duchess River Cruise | St. Louis to St. Paul - 9 Days
The upper reaches of the Mississippi River are rich with frontier tales of fur traders and pioneers set among picturesque geography and abundant wildlife. The region reflects the spirit of the people who worked this land even before steamboats came to the river.
Cruise Information: St. Louis to St. Paul
American Duchess St. Louis to St. Paul Cruise Itinerary

| Cruise Schedule | Destination |
| --- | --- |
| Day 1: | St. Louis, MO |
| Day 2: | St. Louis, MO |
| Day 3: | Alton, IL |
| Day 4: | Hannibal, MO |
| Day 5: | Burlington, IA |
| Day 6: | River Cruising |
| Day7: | La Crosse, WI |
| Day 8: | Red Wing, MN |
| Day 9: | St. Paul, MN - Disembark 8:00 AM |
St. Louis to St. Paul River Cruise Highlights
Mark Twain's Hometown and Literary Inspiration
Scenic River Views and Towering Bluffs
American Bald Eagles
Indigenous Wildlife
Scandinavian and German Heritage
Abundant Locks and Dams
Charming Small-Town America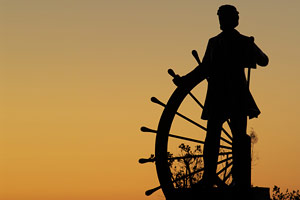 Visit Mark Twain's hometown of Hannibal, Missouri from where much of his inspiration for his stories of Tom Sawyer and Huckleberry Finn is derived. Witness his words and wit brought to life by expert tribute artist Lewis Hankins. Delve deep into the life and work of Samuel Clemens through special daily presentations from special guest speakers Cindy Lovell and Henry Sweets, executive directors of Mark Twain Boyhood Home & Museum in Hannibal, Missouri and Mark Twain House & Museum in Hartford, Connecticut respectively. You won't want to miss this opportunity to share the Mississippi River with Mark Twain.
One-stop shopping - Book complete cruise vacations with flights, transfers,
pre- and post-cruise stays, onboard accommodations, activities and more
For Cruise Dates, More Itineraries and Bookings
Call Our Dedicated Cruise Desk at
877-287-2835
Not responsible for errors or omissions. [Pleasant Holidays acts only as an agent for the various travel providers shown above.]