Japan is a country with everything to offer. Dramatic mountain scenery, ancient temples and the glittering lights of some of the most expensive real estate in the world can all be experienced within a few hours of travel. Whether you find yourself in a quiet, contemplative garden, a tiny four-seat bar tucked away off a neon alley or even on the slopes of Mt. Fuji watching the sun rise, you'll come away from Japan feeling like you've seen it all.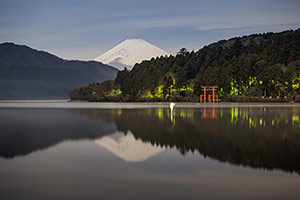 Hakone Vacation Deals
Hakone is a quiet town in Fuji-Hakone-Izu National Park, popular as a day trip for Tokyo residents looking to escape the city.
Kyoto Vacation Deals
Visitors come here from around the world to stroll along the cobbled stone roads, surrounded by the narrow wooden buildings that still stand in some of the oldest neighborhoods in the city.
Osaka Vacation Deals
After Tokyo, Osaka is the 2nd largest city in Japan. Once a booming port and industrial center, visitors now flock here to get a taste of Osaka's famous cuisine.
Tokyo Vacation Deals
Tokyo's size can be daunting to a newcomer, but like the city's nine million residents, you'll find that's just more to love.
Yokohama Vacation Deals
Studded with European-style architecture, fusion cuisine and home to the largest Chinatown in Japan, it's easy to see how this unique history has added a dash of multicultural flavor to the city