Pleasant Holidays®
Founded in 1959, Pleasant Holidays is one of the largest travel companies in the U.S., offering customizable vacation packages including flights, hotel and cruise accommodations, airport transfers and car rentals, exciting sightseeing tours and activities, travel protection coverage and more. Our vast portfolio spans the globe while featuring the world's most popular vacation destinations, including Hawaii, Caribbean, Europe, United States, Asia, Africa, Australia, Canada, Central America, Cook Islands, Fiji, Mexico, the Middle East, New Zealand, South America, Tahiti, and ocean and river cruises.
The company's portfolio of travel brands includes Pleasant Holidays, Journese, Air By Pleasant and Pleasant Activities. Pleasant Holidays' headquarters is in Westlake Village, Calif., near Los Angeles, with regional offices in San Diego and Honolulu. Its dedicated team of travel professionals numbers more than 400 employees across all locations.
Awards For Customer Service Excellence
Pleasant Holidays is recognized annually with numerous travel industry awards for excellence for extraordinary customer service. Pleasant Holidays is dedicated to excellence and aspires to be the leading provider of worldwide travel.
2022 & 2023 Honors and Awards
Travel Age West WAVE Awards 2023: FIT Tour Operator Providing the Best Travel Advisor Support | Best Tour Operator, Australia/New Zealand/South Pacific | Best Tour Operator, Hawaii (for the 17th consecutive year)
AAA National Awards 2023: Travel Agency Support | Member Support | Best in Marketing | Independent Tour Partner of the Year
Travel Weekly Magellan Awards 2023: Overall Education Program - Travel Advisors | Pleasant Pro Academy Re-Launch
NEST: FIT Partner of the Year
Travel Weekly Readers Choice Awards 2022: Best Tour Operator, Hawaii (for the 19th consecutive year) | Best Tour Operator, South Pacific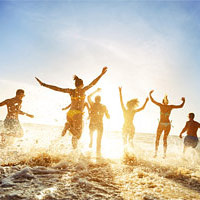 Group Travel / Weddings & Honeymoons / Cruises
Pleasant Holidays offers travel services for individuals, couples, and groups of all sizes, including intimate honeymoons for two, family vacations and reunions from three to 300, memorable Destination Weddings, and corporate meeting and incentive events that can range from 10 to 10,000.
Book complete cruise vacations with everything you need—flights, cruise accommodations, transfers, activities, pre- and post-cruise hotel stays and more—in one convenient location. Pleasant Holidays offers a vast cruise portfolio, from intimate yacht cruises to nostalgic paddlewheelers to river cruise vessels to full-size ocean liners that are like floating resorts, with options that invite you to explore fascinating ports close to home and far away.
JourneseSM
As the luxury brand of Pleasant Holidays, JourneseSM embodies the promise of an exquisite journey, with fine travel made seamless and effortless through experienced Destination Specialists. Our travel experts personally visit and handpick the world's finest properties, establishing supplier relationships to ensure VIP treatment at premier resorts, Private RetreatsSM, private resort residences, luxury trains and cruises. To book your immersive journey, contact your travel professional, visit Journese.com or call 800-837-0420.
Air By Pleasant®
Air By Pleasant specializes in low airfares to international destinations including Europe, Asia, Middle East, Africa, Latin America and South America with discounts on First Class, Business Class, Premium Economy and Economy Seating on 80 airlines to 180 countries. Experienced international flight specialists offer professional consultation and superior customer service to the world's most popular international cities including London, Rome, Paris, Barcelona, Tokyo, Sydney, New Delhi, Beijing, Tahiti, Moscow and Madrid.
Mileage accruals on most major international airlines plus optional travel protection includes one-time waiver of airline change fees or flight cancellation benefits. Visit www.AirByPleasant.com, or call 866-378-0170 for expert assistance with international flights.
Pleasant ActivitiesSM
Pleasant Activities is one of the largest in-destination activity, tour, events and attractions providers in the Hawaiian Islands, offering more than 1,000 sightseeing tours, luaus, sunset dinner cruises, zipline adventures, helicopter tours, fishing excursions, golf & spa reservations and more. Located in Honolulu, Hawaii, Pleasant Activities has more than 100 staff members located on the four islands of Oahu, Maui, Kauai and island of Hawaii to assist in researching and booking the ideal activities in Hawaii, Caribbean, Costa Rica, Australia, Europe, Fiji, Mexico and the United States. Book online at www.PleasantActivities.com or call 888-229-7770 for expert assistance.
Pleasant Hawaiian Holidays
Since 1959, Pleasant Hawaiian Holidays has offered vacation packages to Oahu, Maui, Kauai and the Big Island, customized just for you. We're totally committed to your perfect vacation and along the way, we've earned the awards to prove it.