American Duchess River Cruise | American Music Holiday
Memphis to Nashville - 9 Days
Discover the sights and sounds of America's rivers and the roots from which sprung a variety of musical genres. Enjoy special onboard entertainment and focused lectures highlighting the music of the regions through which you are traveling. Whether it's the sounds of New Orleans Jazz, the strains of the uniquely American musical art form the Delta Blues, the Rock and Soul of Memphis, or the homegrown Country Music melodies from Nashville, it all harmonizes with the rhythms of the river.
Cruise Information: Memphis to Nashville
American Duchess Memphis to Nashville Cruise Itinerary

| Cruise Schedule | Destination |
| --- | --- |
| Day 1: Sunday | Memphis, TN - Hotel Stay |
| Day 2: Monday | Memphis, TN - Depart 5:00 PM |
| Day 3: Tuesdat | River Cruising |
| Day 4: Wednesday | Paducah, KY |
| Day 5: Thursday | Grand Rivers, KY |
| Day 6: Friday | Clarksville, TN |
| Day7: Saturday | Nashville, TN |
| Day 8: Sunday | Nashville, TN |
| Day 9: Monday | Nashville, TN - Disembark 8:00 AM |
Memphis to Nashville River Cruise Highlights
Sensational Holiday Entertainment
Cultural Heritage and the Arts
Grand Ole Opry Show at the Historic Ryman Auditorium
Scenic River Views
Underground Railroad History
Patti's 1880s Settlement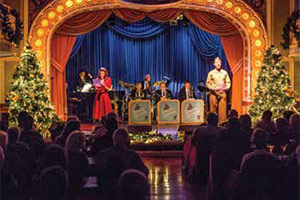 Watch the magic unfold during special holiday musical performances by our sensational ensemble. Performances light up the season and put a whole new spin on your holiday cruise!
One-stop shopping - Book complete cruise vacations with flights, transfers,
pre- and post-cruise stays, onboard accommodations, activities and more
For Cruise Dates, More Itineraries and Bookings
Call Our Dedicated Cruise Desk at
877-287-2835
Not responsible for errors or omissions. [Pleasant Holidays acts only as an agent for the various travel providers shown above.]